Voyager
Dublin Core
Description
Voyager by Seymour Lipton, 1964
One of the most prolific American sculptors in the mid-20th century, Seymour Lipton belonged to the Abstract Expressionism school of thought that followed World War II. Lipton did not start out as a career artist. His family expressed discouragement early on, and he graduated from Columbia University as a dentist. Nevertheless, somewhere along the way Lipton ended up making art anyways. By the 1940s, Lipton had his own solo shows and had begun teaching at various colleges in New York.
Before sculpting each project, Lipton would conceptualize with several drawings and outlines. After using those plans to make a small model, he would then continue to work in more ideas and alterations to the model until he was satisfied. In this way, Seymour Lipton was able to combine improvisation with planning; creating pieces that often embodied deliberateness without losing emotional expression and spontaneity.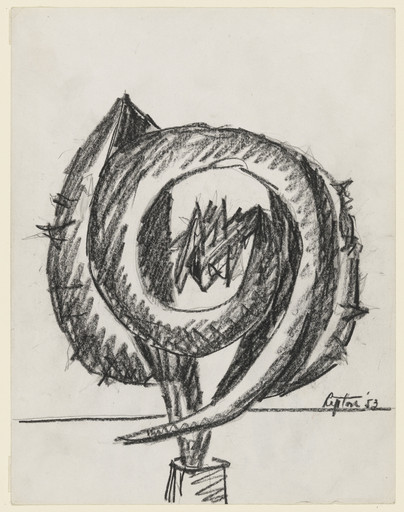 When he was satisfied with his arrangement, Lipton would then finish the piece by scaling the model up into a bigger sculpture.
Penn's Voyager has all the trademarks of Lipton's style. There are abstract forms nestled within bigger forms, and the whole sculpture is both organic and precise. The surface is mottled with marks and signs of Lipton's hands-on process, while the entire structure is meticulously planned. No matter the size, his sculptures often evoke weight and solidity, harkening back to a feeling of mythology and fractured modernity. These are not novel themes at the time. Rather, Lipton's projects contributed to a larger exploration of the aftermath of World War II on people and their need for new national identities.
While Abstract Expressionism is primarily known as a painting movement United States, many sculptors also shared the philosophies behind it. In addition, many international artists were also responding to the same things. While the movement began long before the 1940, it was advancements made during and after those decades which present their influences on Lipton the most. After World War II, there began for many peoples a need for re-evaluation. As the horrors of the war was revealed, there began a shift in understanding what people were capable of. For many international artists like Alberto Giacometti, the War created a sense of existential despair and reduction. People had become reduced into something that no longer felt human. Giacometti's sculptures often depict emaciated figures with unnaturally elongated limbs, evoking a feeling as if something crucial has been taken away. There is an existential terror within the the perversity of his figures, and hints of a similar thought can be seen in Lipton's work as well, as he sometimes
 combines mechanical structures with organic figures like in the case of Diadem, 1960.
 On the other hand, there was a drive for new beginnings and reconstructions in the United States. Yet, despite the more optimistic response to postwar life, Abstract Expressionist artists often arrived at similar conclusions as contemporary international artists like Giacometti. In the drip paintings Jackson Pollock was famous for at the time, there was a constant tension between chaos and rhythmic pattern. Artists like Pollock and Lipton reflected a period of new introspection and emotional complexity shared by the whole world. Their works began the process of incorporating chaos within organization, understanding that the process of creation must include both.
More on Lipton and his Contemporaries
Read how the CIA used Abstract Expressionism as a weapon during the Cold War
Coverage
Annenberg Center
References
Baskind, Samantha. "Lipton, Seymour." Encyclopaedia Judaica. Ed. Michael Berenbaum and Fred Skolnik. 2nd ed. Vol. 13. Detroit: Macmillan Reference USA, 2007. 77. Gale Virtual Reference Library. Web. 17 Dec. 2015.
Marter, Joan M. "Lipton, Seymour." 
The Grove Encyclopedia of American Art
. Oxford: Oxford UP, 2011. N.
Franklin
. Web. 16 Dec. 2015.

Marter, Joan M. "Abstract Expressionism." The Grove Encyclopedia of American Art. Oxford: Oxford UP, 2011. N. Franklin. Web. 17 Dec. 2015.
Citation
Seymour Lipton, "Voyager,"
Art at Penn
, accessed October 19, 2020,
https://pennds.org/arth503640/items/show/15
.